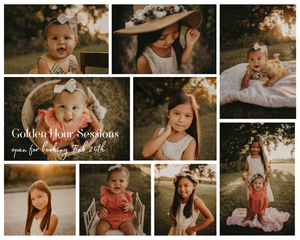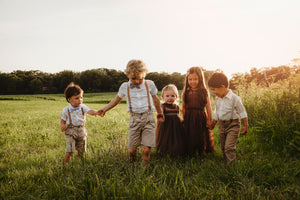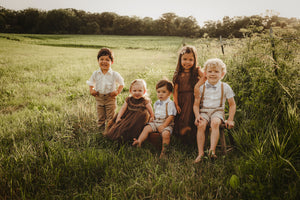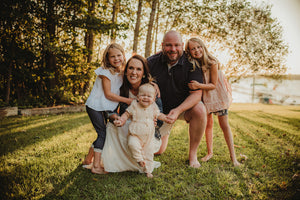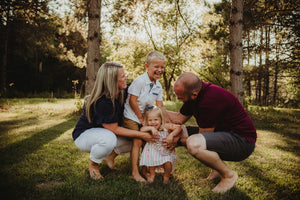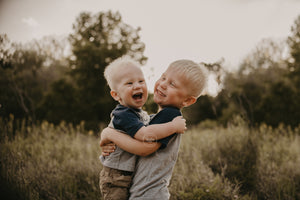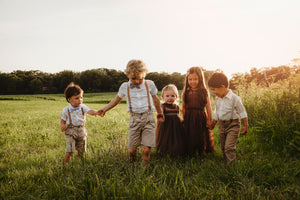 Summer + Fall Golden Hour Session | Retainer
These are the most popular sessions of all time and for good reason, they are simply magical and breathtaking. The lighting is just perfect, definitely worth keeping the kiddos up a little later to snag the perfect light. 
I will be offering golden hour sessions every other week May through October (August is a little scattered due to other work commitments + vacation), the "off" week will be left open for rescheduling if necessary so not to worry about that should we get a cloudy night or rain on your original session date. Weekend Golden Hour spots will be able to reschedule if inclement weather, but it will be to a weeknight so bare that in mind, but hopefully the weather and sun will be perfect and we won't have to worry about rescheduling! 
This is a retainer towards your entire session fee, it is non-refundable and non-transferrable with the exception of inclement weather determined by photographer  in which we would reschedule. 
Details of the Golden Hour Portrait Session | 
-session is an hour in length (sometimes may run a touch shorter if we get all the shots needed) 
-you get an online gallery with 40 edited images + print release form 
-24 hour sneak peek shared if desired 
-NEW 4 day turn around 
-total investment is $375, retainer is $50 and remaining balance due the day of the session $325
Studio Address for reference; 
20848 620th Ave 
Rose Creek MN 55970  
The Golden Hour Sessions can be in Austin, at the Studio, Byron, Stewartville and Rochester. If you have a special location request, I would be happy to accommodate that (depending on where, mileage may be added). There are a couple options with a location already listed in which case that will be the location that evening due to prior sessions. 
If you have any other additional questions, please feel free to shoot me an email at hattieannphotography@gmail.com or a text with your name included at 507.440.8553 or a fb message on the photography page.